Software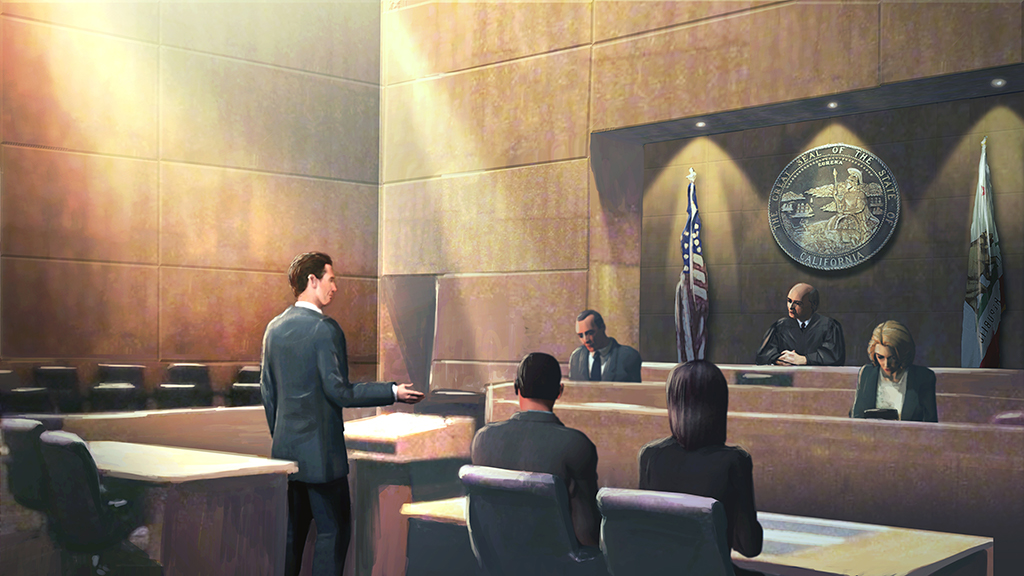 Introducing Slash, the blazing fast, outrageously secure, and full-featured law practice management/CRM system and productivity suite. Drastically increase your ability to get things done, "slash" inefficiencies, and save massive amounts of time by automating the most time-intensive and tedious parts of your work. With all of your organization's knowledge and files at your fingertips instantly and securely, you and your team will crush problems and focus on doing actual legal work instead of slogging through the ever-increasing burden of admin. You'll even come up with new, better ways of doing things that are enabled by this advanced cross-platform technology. Most importantly, you own your system (and you only pay for updates/support) after an on-prem purchase, making cloud-based subscription fees and limited storage a thing of the past. Or, use our Software-as-a-Service (SaaS) option on our dedicated 10 gig connection in a national datacenter.
Intended for law firms, but can also be adapted for other users on a module-by-module basis upon request, such as medical practices, public agencies, and other institutions where advanced knowledge management tools are appreciated. Customers with these needs are advised to review the on-prem options and email an inquiry or RFP.
Optionally runs on PitBull, a defense-grade trusted operating system from General Dynamics Mission Systems that has multilevel security (MLS) and numerous other security features, or on Red Hat Enterprise Linux.
Lattice™
Exclusive
Lattice™, a unified, multilevel project work area and visualization/analysis system for team collaboration (
demo
). Everything a legal team could want accessible on one screen. Eliminates the usual email-based workflow that suffers from tedious manual sharing of documents, and makes the patchwork of Google Drive, Dropbox, Box, and other cloud file sharing systems obsolete for legal work. Set up "watch folders" for maximum efficiency on large projects. The best part? Because the network file system is linked to the work area and automatically synced, saving a file in your desktop application automatically updates the master copy-- no Google Docs or Google Drive required!* Document version control is accomplished by automated processes as well. *Described functionality requires Windows computers and either the included Samba file server or the free add-on libfuse/SSHFS, or SSHFS on macOS-based computers.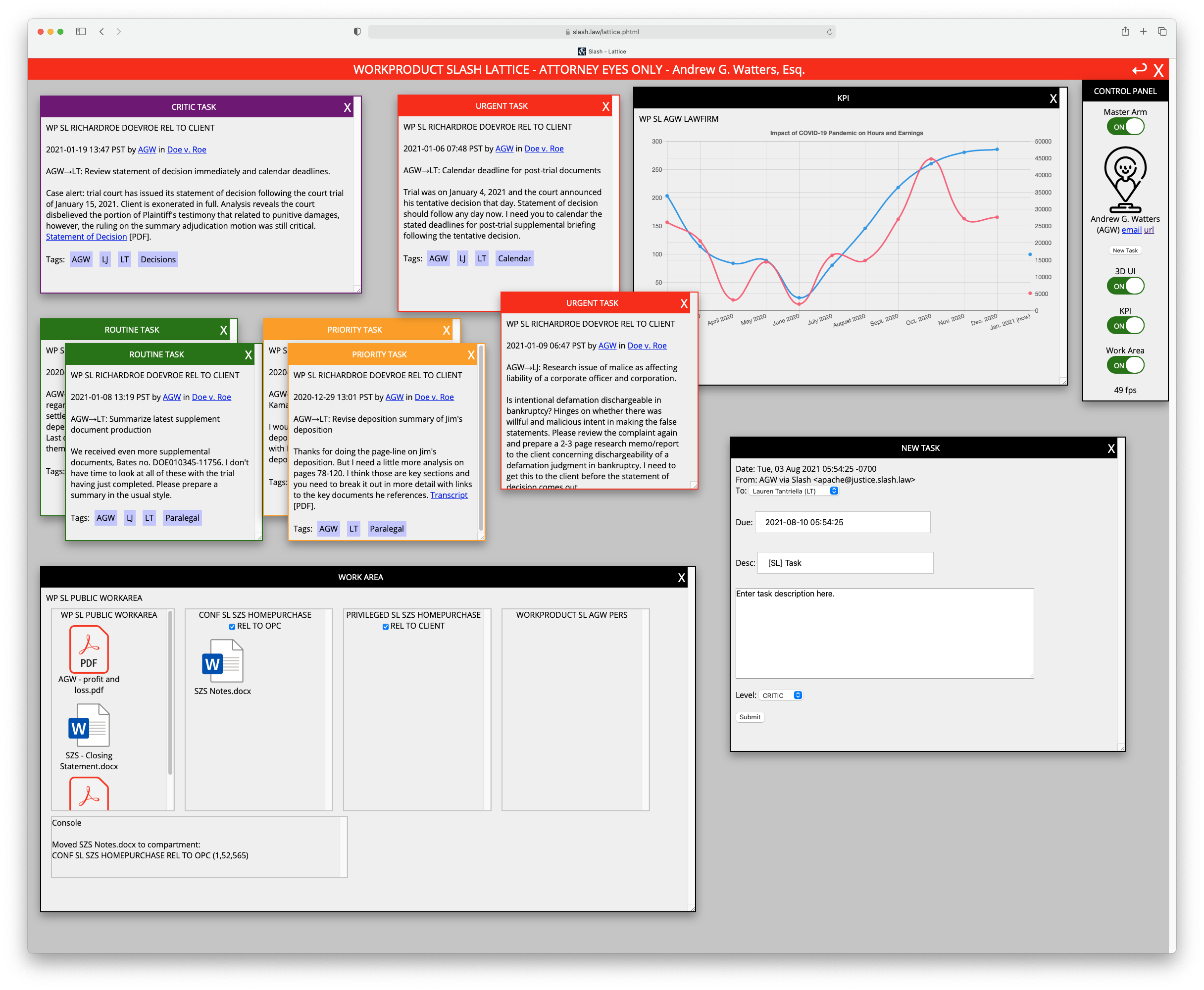 FilePower™
Highly granular compartmented access control with user clearances and essentially unlimited compartments available.
Exclusive
Drag-and-drop compartmentation and releasability interface
, with logging, functions, triggers, multilevel views, and multi-step commit/rollback tree with staging of changes and "undo/redo." Restrict and grant access to sensitive files, work product, trade secrets, and client materials using virtual compartments, as well as actual PitBull security compartments. Share files with clients and opposing counsel by tagging files for production, withholding, release, protective orders, and other criteria.
Exclusive
Digital Evidence Locker™ continuously monitors files for any changes, and provides audit logs and accountability for use of digital materials in court. Drag-and-drop multi-file upload with progress indicators, file validation, and SHA-256 integrity monitoring of uploaded files.
Exclusive
Add your comments and indicate hierarchical and other relationships between files and events in an intuitive visual interface with our signature innovation:
compartmented annotations, links, and tags
with the integrated Lattice™
group workspace
-- all non-destructive, and also exportable/visualizable using an extensible, full-featured graph library. Create (for example) time and event charts, link analysis matrices, and clickable case maps showing sequences of linked events and documents-- all with hyperlinks/permalinks that take you, your colleagues, and your clients right to the events or documents and all of your associated notes and materials, including per-item sensitivity labels and releasability.
FileMap™
Exclusive
Compartment flattening/translation with FileMap™ backup module, currently in development for MITRE-compatible mapping of compartments to standard directories to achieve compatibility with non-MLS backup systems and emergency restore. Connect your server to your own AWS or Azure instance for automatic sync, or subscribe to our own backup solutions such as physical tape, for compliance or otherwise.
AutoGen™
Exclusive
Coming soon: automatic PDF generation of template-based documents such as discovery requests and responses, complaints and answers, standard correspondence (
demo
), and more, based on customizable templates and tagging of content. Style sheets and layouts to match your firm's existing materials and make computer-assisted legal drafting indistinguishable from other documents (
demo
).
AutoTrial™
Exclusive
In development: a system for automatically generating trial materials such as direct and cross examination outlines with tagged excerpts of deposition testimony and exhibits inline, point/counterpoint-type materials, and all the links to associated information provided. In research: Janus™, an automated system incorporating A.I. transcription of the spoken word for real-time capture of proceedings and annotation of transcripts for later use, with programmable macros based on contents of transcript streams using an advanced regular expressions tool in conjunction with a basic natural language processing system.
Time entry
Enter time in an easy-to-use web form that takes seconds. Enter time from anywhere with an internet connection. Bulk enter time slips with the built-in Excel/CSV interpreter. Email your time entries and also queue time entries for later entry at specified dates and times (useful for self-timing and to capture all time accurately). Edit entries and run reports by user, client, matter, and other criteria at any time.
Billing
One-click pre-bill for time review and one-click bill to clients, with automatic PDF bill generation, bills automatically emailed to clients, tickler file, payment reminders, customizable payment deadlines, client balance tracking and automatic application of advance payments/trust funds, billing analytics/stats, and more. Optionally integrate with your preferred payment processor, or keep your payments manual. Sample chart:
Task management
Assign and track tasks and projects from inception to completion, assign customizable levels of precedence, tag multiple involved employees, get automatic notification of task completion and review/approvals, indicate time estimates for employees, measure task completion and allocated workload, as well as general productivity.
Exclusive
User-configurable Eisenhower Matrices coming soon.
Client portal
Client access to releasable portions of client files, real-time views of work in progress, digital file takeout, upload for document productions, and more. Communicate and interact with clients at your convenience in this innovative portal that automatically tracks all inbound and outbound emails, taking the guesswork and searching out of multi-attorney communications.


Case management
Track and control the direction of a case from initial lead to the end of representation. Status updates, customizable milestones, ticklers, user-specified deadlines with calendar sync, assigned value estimates, tracking of financial performance/earnings, and notes.
Manage roles
Add, drop, promote, demote, and archive users based on clearly defined customizable roles and clearances, which optionally sync with PitBull's user clearances. Role-based access control, with functions, windows, and views for different user levels (administrative support, paralegal, associate, partner, etc.), and customizable per-user authorizations and privileges.
Message board
Discuss matters internally as well as with opposing counsel and clients, with message-specific designation for release or restriction and one-click "share with..." buttons for customizable distribution of messages, links, and files.
Contacts/CRM
Track calls, emails, texts, letters, visits, deliveries, referrals, and any other interactions with prospects, clients, former clients, opposing counsel, courts, and more. Accountability and metrics for lead generation, keeping clients informed, incoming notices, and other important communications.
Search
Search across files, tasks, time, bills, contacts, workspaces, and projects to find what you are looking for on the first try.
Exclusive
Supercharged search features such as Regular Expressions Master™, regular expressions "as you type," proximity of key terms, extended booleans, time and date restrictions, active/inactive matters, or (of course) "everything." Connect your system to
NetDocuments
for access to the NetDocuments portfolio of legal technology as well (coming soon).
Sort/Customize
Specify the order in which you are shown key information, and customize the user interface with boxes and containers that show different metrics and data in order to build your own control panel and dashboard based on what is important to you.
Announcements
Send announcements to clients, opposing counsel, employees, contacts, and any other user-specified groups with one click, including automated email merge/personalization based on predefined templates. Drag and drop contacts into their appropriate groups, with unlimited groups.
Trust accounting
Manage trust deposits and funds applied from trust, balance the trust checkbook, and send auto-reminders for deposit replenishment.
Blinding speed
The fastest law practice management and knowledge system ever built, by far, with numerous optimizations honed over the decades of experience our programmers have.
Exclusive
FirePower+™
database accelerator
serves content at mind-blowing speeds and reduces database queries, saving you time and eliminating the bloat and the wait of a traditional Salesforce-type solution. 10 gig dedicated connection of our SaaS offering and 10 gig on-prem hardware are also the fastest available on any known CRM system, with
explosive
, unbelievable hard drive performance (>1 GB/s with only two drives in RAID 0, or 500+ MB/s in RAID 1), courtesy of the
latest technology
from our friends at
Seagate
. Set user preferences to cache commonly used files for even higher performance on the included SSD, or go all-out and put your most frequently accessed data in a RAM disk that automatically syncs back to the hard drive regularly and upon data changes.
High security
Exclusive
Defense-grade operating system security from General Dynamics Mission Systems, plus all the latest security practices such as two-factor authentication, SMS notification of logins at unusual times, emergency and routine password resets, and more. Built-in file integrity monitoring, and extensive audit logs for compliance purposes. AES-256 encryption with Extended Validation SSL certificate plus optional encrypted storage for data-at-rest.
Exclusive
Try out the integrated Rællic™ in-browser AES-256 encryptor if you prefer to store content in the database encrypted so that not even the Slash super-administrator can see anything (just don't lose your passphrase):
Uptime SLA/Failover
SaaS offering is deployed in a major national datacenter on a super-reliable 10 gig dedicated fiber connection with its own uptime guarantee. Failover to our backup system, or failover to your own system at a location of your choice (requires Constellix server monitoring subscription).
In-house support
You will never talk to a call center in India.
Slash SAAS Pricing
Basic
$50/ mo.
per seat*
100 GB

file storage

1 GB

database storage

Up to 12 seats
1,024 virtual compartments
10 gig connection
Basic support
Premium
Best value
$100/ mo.
per seat*
500 GB

file storage

5 GB

database storage

Up to 24 seats and two shell users
2,048 virtual compartments
256 PitBull client compartments
1,024 PitBull transaction compartments
10 gig connection
99.99% uptime guarantee/SLA
Failover and sync
Limited to 40 Premium customers per physical cluster

Exclusive

Premium support

Exclusive
Ultimate
$150/ mo.
per seat*

1 TB file storage
with add-on storage available
10 GB

database storage

Up to 128 seats and ten shell users
Price breaks at 24, 48, 64, and 96 seats
Vanity domain and branding
4,096 virtual compartments
512 PitBull client compartments
3,000+ PitBull transaction compartments
10 gig connection
99.99% uptime guarantee/SLA
Customizable failover and sync

Exclusive

Limited to 10 Ultimate customers per physical cluster

Exclusive

Concierge support

Exclusive
Slash On-prem Pricing
Basic
$9,900
and up + $100 / mo.
maintenance
RHEL 8

with PostgreSQL

Dual 512 GB SSD in RAID 1
Dual 14 TB Seagate Exos X16 in RAID 1
Unlimited web and shell users
Unlimited virtual compartments
10 gig Ethernet
1U rack configuration
Redundant Platinum-certified power supplies
Installation and configuration included
Software updates included
Basic support
Premium
Best value
$29,900
and up + $900 / mo.
maintenance[1]
PitBull

with PostgreSQL

Dual 512 GB SSD in RAID 1
Dual 14 TB Seagate Exos X16 in RAID 1
Unlimited web and shell users
Unlimited virtual compartments
512 to 2,048 PitBull client compartments
1,000+ PitBull transaction compartments
10 gig Ethernet
1U rack configuration
Redundant Platinum-certified power supplies
Failover and sync[2]
Installation and configuration included
Software updates included
Limited to 40 Premium customers until 2022

Exclusive

Premium support

Exclusive
Ultimate
Call
+ $900 / mo. and up maintenance[1]
PitBull with PostgreSQL and/or Oracle Enterprise Database with Label Security module[4]
Dual 1 TB SSD in RAID 1
Dual 14 TB Seagate Exos 2X14 in RAID 1 or RAID 0
Unlimited 10 gig Network Attached Storage, or SAS
Custom high-availability firewall appliance
Unlimited web and shell users
Unlimited virtual compartments
1,024 to 2,048 PitBull client compartments
1,000+ PitBull transaction compartments
Custom LabelEncodings
Official training available[3]
10 gig Ethernet and up
1U and up rack configuration
Redundant Titanium-certified power supplies
Installation and configuration included
Customizable failover and sync[2]

Exclusive

Limited to 10 Ultimate customers until 2022

Exclusive

Concierge support

Exclusive
[1] PitBull maintenance and software updates provided directly by General Dynamics Mission Systems or its designee; support provided by Slash and CodeWeavers.
[2] Requires AWS or Azure account (or other customer-specified failover device), plus Constellix server monitoring.
[3] Training provided directly by General Dynamics Mission Systems, with supplemental training by Slash.
[4] Oracle MLS option coming soon.
Technology
Slash relies on internal web application programming to implement the above features. Of particular note is the database accelerator, which relies on the concept of creating "shards" of information pulled from the database at regular intervals and written to HTML component files. The server assembles these components into web pages without necessarily accessing the database, improving performance by approximately 2,000 percent over a pure database-driven system (20 times faster). When used on a fast connection or on-prem, the result is simply amazing performance where the user is never kept waiting.
PitBull Features

MTR-10649 MITRE LabelEncodings for classifications and sensitivity labels. Specify classifications from public up to work product, and everything in between. Create compartments for any information in any combination, assign files and folders to compartments, and assign users access to particular compartments in any combination. Directories can range from any classification to any other classification according to user requirements and specified combination constraints. In other words, highly granular access control.
Identification and Authentication (IAA). Users are identified and authenticated before they can perform any action on the system.
Authorizations. Users are assigned roles in an enforced authorization database that determines what actions users may perform on the system.
Discretionary Access Control (DAC). Users perform actions on objects according to their authorizations.
System Architecture (Least Privilege). Under the principle of least privilege, every user (including system users) receives just enough permissions to execute their required functions.
Security Testing. PitBull exceeds EAL 4+ Common Criteria requirements and is actively used in the U.S. government and allied governments every day.
Auditing. Extensive audit logs record operations on the system and all commands, as well as privilege escalations and other security events.
Printout Labeling. Optionally label information at its assigned classification level (e.g. Work Product) and specify releasability (internal/client/opposing counsel/public/etc.) when printing documents or generating PDFs.
Mandatory Access Control (MAC). At the kernel level, the operating system denies actions that are not within the user's authorization and privileges.
Sensitivity Labels. Compartments in any combination and ranged directories ensure that information is appropriately restricted on the system, including between shell users-- even if they are in the same group. Far more compartments and granularity than standard RHEL/SELinux.
Device Labeling. Label information from internal or external devices as being ingested at a particular classification level or in a particular compartment.
Configuration Management. PitBull uses the concept of the Information System Security Officer (ISSO), who is the super-admin. There is no root access as such.